Sligo Rovers Manager Gerard Lyttle visits Manor
Sligo Rovers Manager Gerard Lyttle was guest of honour at the clubs awards night in the Bee Park Community centre. In a very well attended ceremony the main award of the night the "Club Person of the Year" award went to Saoirse Cummins for her outstanding work at youth level with the girls U12 team and our U10 boys team as our futsal teams. Bernie Cleary in summing up Saoirse contribution said that Saoirse is always available and spends hours per week coaching several different age groups. She is never found wanting and is a huge contributor to the club in general. Muireann Devaney won the overall "Underage Player of the Year". Oran Gethins and Muireann Devaney were both presented with match balls having scored a hat trick each in their respective finals. Both balls were signed by Irish International manager Martin O'Neill. Sligo Rovers manager addressed the large gathering and was wholesome in his praise of the club and also offered a bit of an insight into the bigger game at Sligo Rovers. All the award winners feature on our facebook page
Manorhamilton Rangers U14 Girls win thrilling Shield Final
What an absolute magical evening in the Bee Park. Jamie Murphy and his U14 girls took on Calry Bohs for the U14 Sligo Leitrim Shield. It was a game that had everything. Loads of drama, cracking football and some outrageously good solo and team plays. In front of a large home and away support John Barry got the game underway. In an evenly contested first half there were chances for both teams. No team was able to get the opening score and the half finished scoreless. Muireann Devaney put Manor ahead early in the second half with a contender for goal of the season in any league. She took off on a pulsating run beating seven players and looked to have closed off the shot on goal but somehow she swung a great shot low into the bottom corner through a melee of players. Calry had a great chance shortly after but a superb last ditch tackle from Muireann averted the danger. Calry had a good spelll and equalised shortly after and then took the lead through some nice football. Manor pushed and pushed and it looked like it was going to be Calry's day until Muireann was put through by Erin Somers and she hit the net with two minutes left on the clock. Extra time came and Manor again found themselves behind with Calry scoring early in the first period of extra time. The Manor girls to their credit never gave up and Muireann got her hatrick in the second half of extra time. Sarah McGloin was outstanding in the Manor and made a number of crucial saves that defied her young age. With the game heading to penalties Muireann Devaney struck a shot which was deflected out for a corner. For the first time in the game Muireann decided not to take the corner and Emily Conlon stepped up to the mark. Three Calry players followed Muireann in the penalty box and as she moved out Emily swung in a brilliant corner kick which sailed into the net to put Manor 4/3 ahead. Manor held on till the end for a cracking victory. Manor's back line of Ailish Victorino, Meave McMorrow, Muireann Cullen and Helen Verachert were immense all evening. The manor midfield of Emily Conlon, Keira Dalton, Grainne O'Connell and Muireann Devanney were sublime creating most of manors better moments. Roisin Keegan O'Rourke and Erin Sommers playing up front terrorised Calry's defence and created the openings for some of the goals. Jamie Murphy made a number of substitutions at different stages which saw Cliodhna Boylan, Shauna Sheridan, Rebecca Darcy, Shauna Clinton, Aine McLoughlin, Aoife Maguire, and Kallie all play their part. Lauren Devaney and Anna Devanney (both U12 players) didn't manage to get on but answered the call and played their part through encouragement at the side. Several players could be nominated on the manor team for player of the match but today was a huge collective effort and that includes the support at the sideline and I know Muireann will forgive me this one time as the player of the match has to go Sarah McGloin who kept us in the game with several fine saves when we were under huge pressure. The real winner today was Jamie Murphy and his squad. Proud night tonight. Games like that are why I love this club. We never give up. Special mention has to be made of Mairead Clancy who missed tonight's final through injury but was there encouraging her team. Her outrageous goal from forty yards put us in the final. Respect. Tonight is Manor's night girls. Enjoy. To the Calry girls you were fantastic both during the game and afterwards. Respect to ye and your club.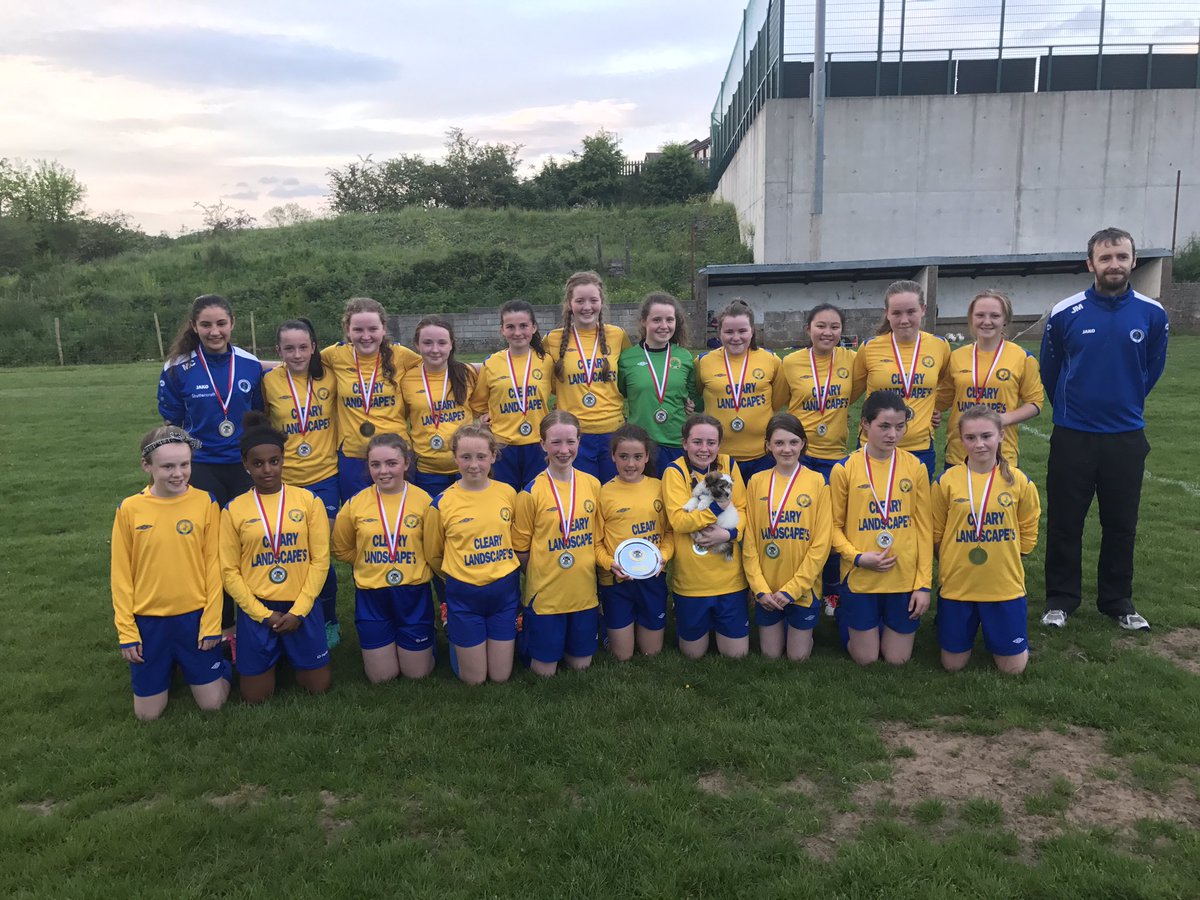 Manorhamilton Rangers nominated in last eight for Aviva Club of Year 2017
Manorhamilton Rangers AFC have been nominated for the second time in three years in the last eight clubs for the Aviva Club of the Year. Its a huge achievement for the Club and Club PRO Dave Cummins will now go to the Aviva Stadium on June 4th to meet the judges and receive €1500 and learn the details of the presentation that the club have to put forward outlining their case why Manorhamilton Rangers should be crowned Aviva Club of the Year 2017. exciting times. Well done to all involved with the club.
U15 Sligo/Leitrim League Champions
Daithi and Dave Cummins U15 team defeated Ballisodare Utd on their home ground to capture the U15 League title with a narrow 3-2 victory in a hugely entertaining match. Manor found themselves behind 1-0 and 2-1 before eventually coming back and winning the game in the last minute. Oran Gethins scored a fine hat trick to seal the win. However but for the heroics of Iarla Regan in the Manor goals it could have been a different story. He produced four brilliant saves to keep his team in the contest. There were huge performances all around the team as they fought their way to victory over a Ballisodare side who were unbeaten all season until the final day. Peter Maguire signed off from Manorhamilton Rangers as a league champion and had a huge affect n the outcome. We wish him well on his future footballing career with Sligo Rovers U15. Thanks to all those who supported us and John Mullins Gala for his generous sponsorship. Well done to management and team.